Onboard ANA's 787 Re-Inaugural Flight from San Jose to Tokyo
Reported from SJC and NRT by: Enrique Perrella, Correspondent Airchive.com
The Dreamliner Crisis
"Japan Airlines (JAL) has temporarily suspended operations of its Boeing 787 fleet following Tuesday's emergency landing by an All Nippon Airways (ANA) 787-8 that led ANA to ground all of its Dreamliners."

– Air Transport World, January 16th 2013.

Headlines like the one displayed above made Boeing's Dreamliner become quite the nightmare for those airlines that had taken delivery of the much awaited twin-aisle jet. That particular incident that made the news forced flight NH692 from Yamaguchi Ube to Haneda to unexpectedly land in Takamatsu after one hour into the flight.
There was an unusual smell in the cockpit as well as in the cabin and the flight made an emergency landing at Takamatsu Airport.

"Later it was confirmed that the main battery in the forward electronic equipment bay was discolored and the electrolysis solution had leaked,"

– All Nippon Airways
This emergency landing on January 16, 2013 along with the JAL incident in Boston a week earlier, eventually led to the entire grounding of 787 airplanes at ANA and all other carriers operating the aircraft, placing a media magnifying glass on top of the American manufacturer. The success of the already delayed Boeing's multi-billion dollar 787 program, which lists the 787-8 model for $US206.8 million, and its stretched sibling, the 787-9 for $US243.6 million, became a big question mark at this point.
To make things worse, all passengers and crew of flight NH692 after the emergency landing were forced to evacuate the aircraft, where two passengers suffered "minor abrasions when sliding down the emergency slide," according to an official statement made by the airline. This was quite different then how Boeing pictured the first months of its 787's operating.
Japan's transport minister acknowledged that passenger confidence in the Dreamliner was at stake. According to him, both Japan and the United States had opened a broad and open-ended investigations into the incidents, attracting media and criticism at massive scales.
Extra: Read the Boeing 787 Dreamliner Grounding Timeline Continuously Updated 
Three months after these incidents, the 787 took back to the skies. A new battery type was installed in all the Dreamliners and ANA was the second airline, after Ethiopian Airlines, to be granted a permission to restart operations with their 'new' aircraft.
ANA officially launched its test flights with their President and Boeing's Chief of Commercial Airplanes on board a flight which departed Tokyo-Haneda and returned safely almost two hours later, proving that the new battery setup was safe and reliable to use.
The 787 launch carrier therefore planned to re-launch their commercial operations with the Dreamliner in June after at least 230 test flights were completed.
 All Nippon Airways 

Looking a long way back in time
ANA is Japan's largest airline and a pioneer in the commercial aviation industry. Its headquarters are located at the Shiodome City Center in Tokyo and employs over 14,000 people around its worldwide network. The airline was founded in 1952 as Japan Helicopter & Aeroplane Transports Co., Ltd. with the main purpose of restoring regular air transportation that was disturbed by the tragic effects of World War II.
One year later, ANA was authorized to begin transporting passengers on a schedule-based operation and launched services between Tokyo and Osaka. In 1955, the airline availed itself of the iconic Douglas DC-3, expanding operations and maximizing efficiency, later changing the company's name to All Nippon Airways Co., Ltd.
Other relevant historic facts bring the introduction of the airline's first jet-engine aircraft in 1965: the Boeing 727-100. Including its stretch variant, the 727-200, the model was an important part of ANA's fleet for over 30 years, bringing growth to an airline that escalated with the country's excellent economic and financial situation.
Additional Boeing 737-200 aircraft were introduced in 1969, followed by the Lockheed L-1011 as the airline's first wide-body aircraft. In 1971, non-scheduled international services began with the opening of the Tokyo-Hong Kong route.
1979, ANA introduced the world's most famous airliner, the 747SR-100. The "Super Jumbo", entered into service configured in a world first all-economy 500 seats. The airline's 747SR-100 fleet comprised 23 aircraft.
With steady growth, the airline continued modernizing its fleet and expanding its route network. In 1983 the airline added the then 'new' Boeing 767-200 and began flying to US territory in 1986, with direct flights from Tokyo to Guam.
In 1990, the airline received its first Boeing 747-400. Two variants of this aircraft type were introduced: one for the Japanese market (domestic) featuring a high-density passenger configuration, and one for the long-haul routes. The latter were retired in February, 2011, making space for the new Boeing 777-300ER as the ANA flagship.
In 1999,  ANA joined the world's largest airline conglomerate, the Star Alliance.  Three years later, they celebrated their 50th Anniversary reaching a cumulative total number of passengers carried on domestic and international routes of 1 billion.
Continuing its impeccable track, excellent fleet structure, and protagonist role in the use of top-notch equipment, ANA became the launch customer for the Boeing 787 Dreamliner – a revolutionary aircraft that was conceived to change the industry. The order totaled 66 aircraft, 36 787-8 and 30 787-9.
After the already-known delays with the 787 program at its initial stage, ANA received its first 787-8 Dreamliner on September 26th 2011, becoming the first airline to sport the '787' titles along with the airline's name on the fuselage.
Airchive.com founder, Chris Sloan, was present at the inaugural revenue flight from Tokyo-Narita to Hong Kong, merely a month after the aircraft was handed over to the Japanese carrier.
Extra: Boeing 787 Dreamliner Inaugural Passenger Flight ANA Tokyo NRT to Hong Kong – October 27, 2011
ANA's 787 service to the US began on January 10th 2013, with their flight from Tokyo-Narita to Seattle. Unfortunately, due to a mechanical glitch, the inaugural flight was delayed 24 hours due to a faulty part in the cooling system that needed to be replaced.
Five days later, ANA launched their new Tokyo – San Jose service with the Dreamliner, becoming the eighth US destination for the Japanese carrier. This was the first time SJC had a direct flight to an Asian City since American Airlines pulled out of NRT-SJC in 2006. For a complete read of ANA's inaugural flight into San Jose, read AirlineReporter's article here:
AirlineReporter: ANA Starts Boeing 787 Dreamliner Operations to San Jose
However, due to the battery-related incidents that were mentioned above, services to SJC with the 787 were discontinued and a three-month halt to all Dreamliner operations followed.
By May 23rd 2013, all of ANA's 17 Dreamliners had received the new battery modifications conducting more than 170 proving flights for training.
"The safety of passengers is our number one priority. Modifications for all 787 have been implemented and ANA has undertaken its own additional testing. The 787 remains a game-changing aircraft, important from an environmental, efficiency and passenger comfort perspective."

Osamu Shinobe, President and CEO of ANA
The reintroduction of the 787 aircraft will result in partial amendments to ANA's summer flight schedule for international and domestic services.
ANA will also introduce the Dreamliner onto a further three international routes from this summer – Narita to Beijing and Shanghai and Haneda to Taipei – bringing the number of overseas destinations served by the 787 to five.

– ANA Press Release  (TOKYO 9 May, 2013)
With all problems fixed and all of the 50 Dreamliners equipped with the new battery setup, ANA re-launched its 787 flights to San Jose from Tokyo-Narita, proving the world that Boeing's newest toy is indeed one amazing piece of technology. For North America, San Jose will be the first back in service on the 1st of June. Seattle, on the other hand, will remain with a daily 777-300ER. The following routes will also start/resume with 787 equipment:
Tokyo-Narita – Beijing

Tokyo-Haneda – Taipei (Songshan) (NEW)

Tokyo-Narita – Shanghai (Pudong) (NEW)

Tokyo-Haneda – Frankfurt (NEW)

Tokyo-Haneda – Beijing
On ANA's domestic network, the airline revealed:
The 787 will be introduced on flights between Haneda and Akita on June 1 and flights between Haneda and Toyama on June 15. Due to summertime demand, ANA will also be operating additional 787 flights from July onwards, principally on Okinawa flight routes.
Naturally, Airchive.com was invited to be at the first ANA Long-Haul 787 flight since the grounding with full access to their Business Class product, and we are taking you all along with us. Read below the report of this exciting event, which has been written from the direct perspective of the author to maximize the experience of the reader.
San Jose (SJC) – Tokyo-Narita (NRT)
June 1, 2013
Airline: All Nippon Airways
Flight NH1075
Aircraft: Boeing 787-881 Dreamliner
Registration: JA806A (cn 34515 / ln 40)
The ANA experience began as soon as the reservation was retrieved from the airline's US Sales team. The 'English' version of the airline's website is fairly simple to use, being quite independent from the Japanese portal. It has a very basic and limited look, which makes it quite easy to browse – nothing out of the ordinary yet quite efficient from the eye perspective.
Once the reservation number is entered in the 'View Reservations' area, it's possible to choose the seat with one of the nicest seating charts I have seen to date.
As a welcoming sight, a nice image of the new Staggered Business Class seat is displayed with the passenger's name on a right-side column. Additionally, the Business cabin is graphically divided into three sections, allowing one to choose which one to be on.
After taking a quick peek at my future seat, I went on to explore the wonderful 3D-like seating chart. Given that I am one picky AvGeek, I wanted to make sure I had the best possible view of the engine and wing during takeoff and landing, obviously for picture purposes. Therefore, I had to be in the front side of the Business cabin.
Here's a view of the rear Business Class cabin: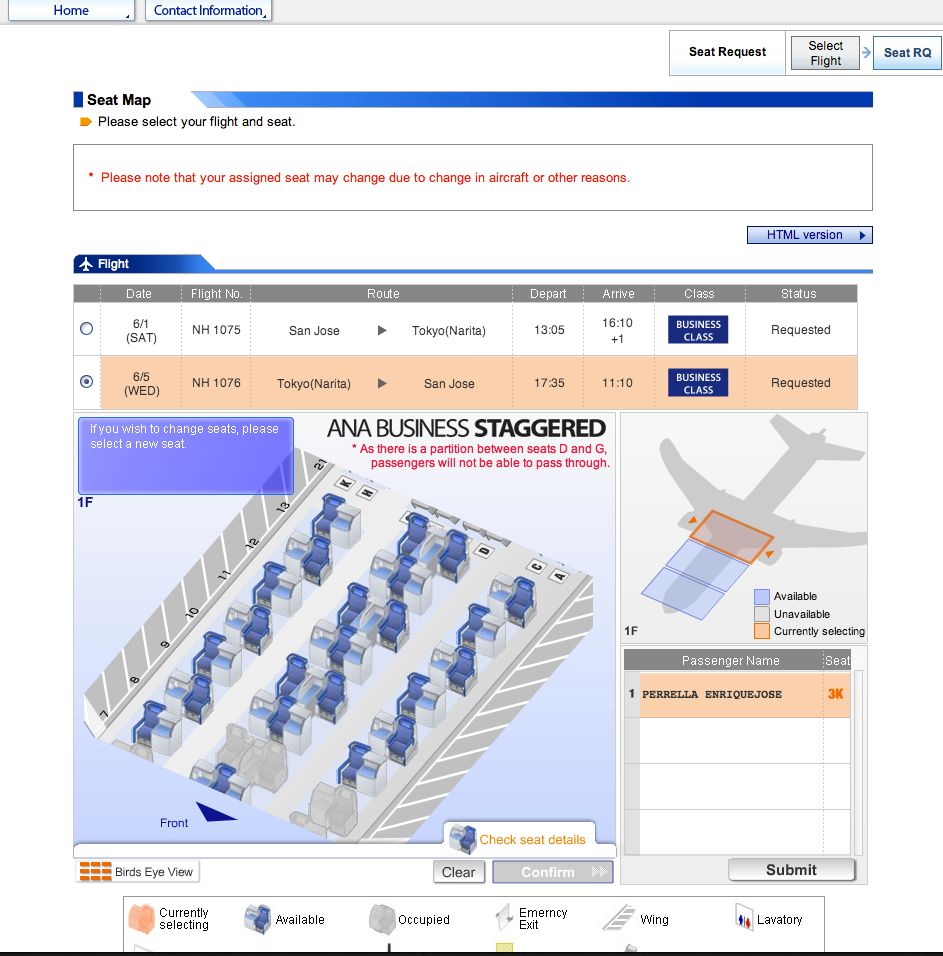 ANA reservations had placed me on seat 5A. As one can appreciate in the chart below, it's immediately next to a window, perhaps the perfect spot.
I was completely satisfied with my seat choice until I decided to go ahead an do a little research around the net. After browsing for a couple minutes, and thanks to my good friend Ben Wang, my seating choice was validated. Here's a look at seat 5K. According to seatguru.com, seat 5A also has a missing window.
The horrible possibility of having to fly the Dreamliner for the first time without looking outside the window made me ill. I went on and looked at any available seats ahead of row 5 and thankfully there was one available. Here's a look at the front-end of the Business cabin and my new seating choice.
I ended up choosing seat 3K, which should give me a fantastic wing/engine view – just what I was looking for.
Unfortunately, on the flight back from NRT to SJC, the front cabin was completely full except for the same seat 3K. I am a firm believer that Business Class service is often better up front as food is often better served and presented, also having slightly more privacy than in the rear cabin.
San Jose Airport
Upon our arrival into the beautiful San Jose Airport, we explored the neat domestic terminal which has a very modern design, with plenty of windows affording an excellent view of the tarmac.
The new service to Tokyo was being promoted throughout the LCDs of both terminals, which is indeed a milestone to be proud of for the employees at SJC.
After a quick peek at SJC's domestic terminal, we walked towards the International departures area. It took about 6 minutes for us to reach the elegant and sharp building which hosts all foreign carriers.
Check-in
 Once inside the terminal, we were greeted by numerous smiling ANA agents, who seemed to be  even more excited than we were for the returns of their Dreamliner into San Jose.
Less than a minute after we stepped into the check-in area, a friendly Japanese agent welcomed us with a smile that isn't always seen at the ticket counter. What a refreshing thing to see!
Our passports were screened and reservations retrieved in a heartbeat. The agent showed us a rather vintage seating chart, printed on a cardboard and wrapped in plastic, of their 787. We were shown where our seats were located and asked whether we were happy with the selection.
With our boarding passes in hand, we were instructed to head to the top floor and go through security. This terminal, though definitely not as updated as the domestic, has a very nice setup and convenient design, where premium passengers are expedited easily through the TSA screening points. This allowed us to go through the hassle in less than 4 minutes, surely a record-breaking score that will be logged in my traveler memory book.
Almost two hours before scheduled departure, we walked to the assigned gate 15, adjacent to 'The Club at SJC' where we met in person "the star of the day". After going through the most relaxed security screening, we walked for a couple minutes until we finally spotted the sharp wings and particular tail of Boeing's new baby, the Dreamliner.
For some, yes, it's a plane… For us, well defined individuals who proudly wear the invisible AvGeek badge, it's the Dreamliner. Common mortals can't understand the excitement to know that in less than 120 minutes, one will be part of the 787. Excitement and anxiety rush in, quickly.
After a couple photos taken, and a dozen others erased (pardon the hand shake), we headed up to The Club at SJC to explore what ANA and the airport has to offer to premium passengers.
Business Class Lounge: 'The Club at SJC'
ANA's Business Class Lounge in San Jose is available for ANA Diamond Service members, Platinum Service members and Super Flyers Card members plus all Star Alliance Gold members on ANA operated flights. The lounge is quite exceptional given that ANA operates only 1 flight per day here.
The lounge has services such as shower facilities, business support, newspapers and drinks and is conveniently located in front of ANA's gate of choice, 15.
The club is located one story higher than the departures hall. Upon entrance, we were welcomed by a very nice agent who checked us in quickly and efficiently, allowing us into one of the most well appointed lounges I had seen to date.
The club offers numerous choices of snacks, including top-notch Roast Beef or Turkey sandwiches, yogurt, bagels, and more. In addition, complimentary draft beers (such as the legendary American brew, Sam Adams), wines and soft drinks are available, all graciously offered.
Another point in this lounge's favor  is the high-speed broadband internet wi-fi connection that's offered at no charge. We were able to upload over 300 HD photos to our site in less than 2 minutes. Excellent offerings and service provided by the SJC team.
Boarding Gate
Gate 15 is conveniently located in the middle of the International terminal, so reaching it from any end of the building is quite easy.
Boarding of flight NH1075 initiated after the ANA San Jose delivered brief welcoming remarks, thanking all passengers for their participation in the re-inaugural flight and apologizing for the issues that took the Dreamliner out of operations for over three months. Special emphasis was given to the high-level commitment that ANA has towards safety, and then all passengers were invited to board the plane.
The most fascinating part, for a person who has never visited Asia, was the salute they all gave once the speech finished, bending forward towards all the present in the boarding gate. Truly a magnificent sight and an overwhelming feeling of respect and education.
Once the boarding process began, we handed over our boarding passes to the same lady who checked us in. After checking our passports and scanning the boarding pass, she handed it back in the most polite manner, holding it with both hands and leaning forward with another mind-blowing smile. The Japanese culture really struck me, all these thousands of miles far away from their land.
Not being able to hide my excitement, we began our walk down the jetway with Aida's "Triumphal March" song imaginarily sounding in the background. On the way to the aircraft, ANA's representative personally thanked us for flying with them, and upon reaching the Dreamliner's L2 door, another Flight Attendant welcomed us into the next-era airplane, which ambient was set with the calming light blue mood lightning.
Past the #2 galley, we turned left towards our seat. The very large overhead bins were all opened, showing off their immense storage capabilities. The cabin configuration and overall design are truly remarkable in this plane, although these vary depending on the route where the Dreamliner will be operated. This 787 is obviously used in the long-haul configuration.
The ANA Dreamliner Cabin Configuration
ANA ordered a total of 31 Boeing 787-8 Dreamliners with two cabin configurations.
For long-haul and international operations, the Dreamliner has been configured in a C46Y112 layout, featuring the 'ANA Business Staggered' Business Class cabin, which allows all passengers to have aisle access and full privacy while experiencing a full-flat seat that maximizes comfort and convenience. This is the configuration present on today's flight.
The airline explains on its website how every seat is configured with a large side table with a reading light, a large size sliding table (150% larger than its predecessor), all fitted with a PC power port, iPod connector, and the latest in-flight entertainment system featuring a 17-inch LCD wide-screen monitor. Other items such as the Do-Not-Disturb light, the shoes storage space, and the on-board shopping capabilities featured in the AVOD, make for new levels of comfort, luxury and privacy.
Curiously, the long-haul ANA Dreamliners have an expansive Business Class configuration, occupying more than half of the aircraft's length, therefore leaving only 11 rows available for Economy Class passengers at the rear end of the cabin. See the seat map below:

The second configuration – destined for medium-haul and domestic operations – is based on a C12Y252 layout. The 'ANA Business Cradle' Business Cabin has a 2-2-2 configuration with cradle seats fitted with 44'' pitch and 19.4" width.
In the Economy Cabin of both configurations, the layout shifts to a 2-4-2 setup, featuring a 33'' pitch and 18.6" width. These seats do not recline but instead have a hard shell back. Instead of reclining, the bottom portion of the seat slides forward by 3 inches. This decreases seat pitch as knees come closer to the seat back; however personal space is preserved as the seat ahead does not recline.
All of ANA's Dreamliners feature LED lighting throughout the aircraft, an economy class bar, Boeing's signature 787 overhead bins, and the all-new TOTO Washlet, providing passengers a warm-water bidet function in each lavatory.

NH1075 – Dreamliner into to the skies. 
With the aircraft less then full, the boarding process ended incredibly quickly. I was amazed at the speed the door was closed, given that this is a wide-body airliner. However, after analyzing the situation I figured the large Business Class configuration of this aircraft reduces the number of passengers present in the plane, hence expediting the boarding process. I ended up having a few minutes to explore the aircraft, understand the surroundings, and most importantly, take pictures.
While I carried on my with my duties, Champagne and Oranje Juice were being distributed by another pretty Flight Attendant, who was happy to pose for me when I asked to take her a picture.
Finally set in, I took a quick glance at the goodies ANA offers in their Business Class. A large pillow, a pair of noise canceling headsets, soft sandals and a very nice cover were present at my seat.
At exactly 13.03, our Dreamliner was pushed back from the gate and the #2 engine began spinning, sending some very discreet vibrations along the cabin. This was a moment I was really looking forward to, since the 777's GE-90 engines have a very peculiar roar and strong vibrations when turned on and I wanted to compare how the 787 behaved under such circumstance.
The Dreamliner was extremely delicate and silent. Interesting surprise.
With plenty of excitement, I pictured our taxiing action until we reached the hold-short point of SJC's main runway. At 13.13, our aircraft lined up with Runway 30R and performed an incredibly quick, but quiet take-off roll due to the light load.
Our takeoff was the most special and particular I had ever lived. After liftoff, we made a slight left turn heading North. We leveled at 5,000 feet for about six minutes until reaching the San Francisco area. This allowed us to take some spectacular photos of the Dreamliner's wings in a clean configuration at low speeds, and of the San Francisco bay area, the Golden Gate bridge, and the SFO airport.
After ten minutes up in the air, the first impressions of the Dreamliner were easily drawn out: the sound coming out of the Rolls-Royce engines was almost unnoticeable; the air coming out of the outlets was particularly humid and emitted almost no sound (big difference from other airliners); the pressurization was remarkably subtle, and the views out of the incredibly large windows are breathtaking. Behold the Boeing 787, ladies and gentlemen.
In-flight Service
At 13.46, the ANA signature in-cabin service began with the distribution of traditional hot towels. One thing that caught our attention was the aroma that was spread around the cabin when the ladies began handing over the towels. Not only they were hot, but also scented with a fresh spring aroma that enhanced the pleasure of using these – often overrated – luxurious items.
My assigned flight attendant, impressed me with her beautiful smile, gracious manner, and impeccable appearance. I dared to ask her name to which she gladly replied "My name is Mami, like Mother in Spanish!". This, plus the silent roar coming out of those two massive engines, made up for a very unique and special occasion. I have to say that, at this point, I wished the Dreamliner became stationary on top of the Pacific, letting me enjoy a fantasy powered by two Rolls-Royce Trent machines, and the impeccable Japanese hospitality that ANA has trained their staff to deliver.
Mami asked what would my choice for a pre-service drink be. After browsing the several Sake and Shochu options, and surrendering to the fact that I am one avid Champagne lover, I decided to give it a shot and compare it to the several European carriers I have tried in the past and choose the French solution. For this flight, the Champagne Montaudon Brut Rèserve Première was the only choice to go after.
Immediately after my beverage choice, I was asked what type of meal I would like to choose out of the traditional Japanese Cuisine, or the International Cuisine options that were being offered on today's flight.
Although I am not a seafood lover, I decided to enhance my ANA & Japan experience by choosing the Japanese option, which is composed of 3 courses that take one on a 'fly-by' over different regions in Japan.
After glancing at the Menu, Mami approached my mini suite with a bottle of Champagne, presenting it before serving. After a nod, she proceeded to serve on a beautiful thin crystal glass.
The Appetizer
The Appetizer arrived in the best of ways. Another Flight Attendant approached me, all polite and diligent, asking permission to serve a very small plate with three main components: a Duck Foie Gras under a tiny pickle, a small cup containing a delicate piece of mozzarella cheese paired with red pepper and olives, and a smal garnish of mushrooms. The dish was presented elegantly on top of a white linen that allowed for superb photography.
The quality of the above-mentioned dish was indisputable. Flavors, combinations and harmony came all together for a perfect starter of a five-star meal. This promised for an amazing service.
The Main Course / Entree
The main course arrived about eight minutes after the appetizer was cleared from my table. Mami presented a pre-served tray containing the most fascinating set of dishes I have ever seen on board an aircraft – all elevated by an astonishing design and color combination.
Three plates were featured with traditional Japanese components, all laid out with elegance and sophistication. The Squid, marinated with malted rice, was accompanied by a broiled shrimp sushi, smoked duck breast and some simmered abalone. Then, a quick-seared swordfish was positioned next to a small bowl with simmered eggplant and herring, all on top of a delicate soy-based sauce.
Please allow me to correct the statement where I said I'm not a seafood lover. With this dish, ANA has managed to re-educate my culinary preferences and now I'm a big aficionado of seafood fine dining.
The Second Course 
Amazed and overwhelmed by the service that had been provided thus far, Mami came back to my seat with yet another pre-served tray containing what promised to be a great second course, deemed to compete with an already high-set bar imposed by the previous two dishes.
A beautiful bowl, designed with delicate blue ornaments, hosted a piece of a deep-fried conger eel, covered with rich black vinegar sauce. In addition, two covered bowls were presented with steamed white rice and a Miso Soup with assorted Japanese pickles, as well as a small garnish of radish and baby eel, that according to smiling Mami, are perfect paired with the white rice. At this point I'm beginning to wonder whether Mami's charms are influencing my delight towards the food that's being served in front of me.

The richness and delicacy of this last dish, completed the most exquisite in-flight meal I have ever tasted in any Business Class around the globe. Truly a heavenly experience.

Dessert or Cheese Course
To end the most fascinating dining experience above the Flight Levels, a moving cart was presented with a variety of Ice Cream desserts and the extensive Cheese Courses.
I went ahead and ordered the Cheese Course, which had a small selection of a Blue and a Comte cheeses, accompanied by two slices of bread, carrot, celery, and prunes.
Minutes after tasting the dish, I was presented with a choice of Digestifs, which ranged from the typical Baileys to Quantreau. I decided to pass on the liqueurs and keep flying down the line with Madamme Champagne. With only five hours into the flight, Mami and her colleagues kept really good care of me, filling up my Champagne glass continuously.
After the cabin was dimmed and all windows electronically shaded, a rather different amenity kit was passed around the cabin. The flight attendants, all holding a small basket full of goodies, passed on the components of a traditional amenity kit without the bag that often contains it. These lose components were an eye mask, ear plugs, toothbrush and paste, deodorant, and what they call 'ANA Sleep Support', which is some kind of a Lavender Blend that induces sleep on board a plane. I must say I was rather disappointed that no real Amenity Kits were distributed, as it is often a very nice souvenir to take from a flight that needs to be kept as a memory.
It was time to "work off some of the meal" so off I went to explore the rear Business Class and Economy cabins on this beautiful 787.
On my way to the back, I found all Flight Attendants holding a quick briefing meeting at the mid-galley and the rear-galley. To my delight, another positively hospitable flight attendant, named Marina, almost "ordered" me to take a picture with her and her friends/colleagues, to which I obviously couldn't say no.
I seized the moment and asked her thoughts of the Dreamliner. Their reply, quite surprisingly, was that from the 'feeling' perspective, the 787 had a much better ambiance than any other plane they had flown – mostly thanks to the humidity inside the cabin. However, they weren't too keen on the galley configuration as it was smaller than the other aircraft in ANA's fleet, curtailing their working space and making it less comfortable. Marina mentioned the 777-300ER has the best galley in the airline's fleet.
Moreover, they explained how the crew rest areas (to which couldn't get any access) were very comfortable and 'cozy.'
The ANA Comfort & In-Flight Entertainment System
The 17-inch screen installed on every staggered mini suite offers excellent choices for entertainment during all ANA flights, ranging from TV shows, movies, worldwide music, seat-to-seat instant messaging, six different map views, and more.
Below the screen, there's a small compartment with an AC adapter, a USB and an iPod port.
The system's interface is managed through a remote control that is conveniently located on the left-hand side of the seat, right next to the seat controls. There's also the option of selecting directly on the touch screen the preferred choices for entertainment.
Mid-Flight Snack
After 3,000 miles into the trip, I began to feel quite hungry. Looking at the menu I found they had an IPPUDO "FURUSATO" ramen – a traditional noodle soy-sauce soup that has been recently introduced on all long-haul ANA flights.
I took a quick hop back to the galley and asked the only flight attendant who was there to recommend me her favorite soup, as there were two options in the menu. With no hesitation, she advised me to go for the Noodles, so we had a rather quick agreement.
Well, it happens that this particular Noodle Soup has been awarded the Michelin Guide award at the restaurant where it is made, "Ippudo." According to the on-board menu, the restaurant is continuously listed on the NYC and Michelin Guide restaurant guide since 2008, also being named Yelp's most popular US restaurant in 2010. Ippudo has been expanding its business throughout the world under the slogan "Make ramen a universal language." So why don't we make it our language too… but at 40,000 feet in the middle of the Pacific Ocean?
No questions asked, this is the perfect noodle soup. The perfect snack. The perfect everything.
Mami came back to check up on me and was happy to hear I loved the soup, which thanks to its aroma, several other passengers in the forward Business cabin decided to follow my lead and order one for them too.
In-cabin Excellence
The ability of ANA's flight attendants to remain attentive to any single passenger is something out of the ordinary. I was approached by four different FA's every 20 minutes asking if I was OK, always with a smile and that polite Japanese attitude that characterizes them.
I must highlight an event that could have ruined the 'live' experience that I like to transmit on my reports. My Apple MacBook Air's charging unit was wider than the AC Power outlet located below the IFE Screen on every Business Class seat, not allowing me to charge the computer whilst I typed this report. Battery levels were under 60% with more than 9 hours of flight to immortalize, and I must admit I got really anxious.
It was with some skepticism that I asked for any sort of adapter or a cable extension, obviously expecting a negative answer from the flight attendants. When one of them heard my request, yet with another beautiful smile and clear 'happiness to serve' she went to the front galley and brought me, not one, but three different choices of adapters. This doesn't happen in the real world, at least not with the enthusiasm to help that ANA's flight attendants are always showing to us passengers.
After I finished all my duties and began to feel tired, I decided to take some rest and use the full-flat bed configuration available on this staggered Business Class seat, which comes with an incredibly comfortable cover and pillow that, together, allow for maximum comfort and relaxation.
Approaching Tokyo
20-minutes before descent, Mami came to my seat to wake me up from my sleep. I had managed to doze off into the incredibly silent cabin and comfortable ambiance. The humidity level on board really does make the difference, adding a considerable amount of comfort that can't be experienced in any other aircraft in the world.
Very gently, Mami asked whether I was up for something to eat, to which I replied 'No thanks!' However, for professional purposes,  I managed to take some photos at my neighbor's meal which looked equally great as the previous meals!
Immediately after this meal service, the group of ladies in the Business Cabin began wrapping up service and prepping the cabin for our arrival into Tokyo. After nearly 10 hours, I had managed to sleep for some 70 minutes, letting me enjoy as much as I can of a flight I will very hardly forget and that will most likely remain on top of my best experiences list.
Landing in Tokyo
Our beautiful airliner began its descent towards Tokyo at 22.40 SJC time, 10 hours and 30 minutes after departure. One of the flight attendants came to my seat to thank me for flying with them and gave me a very nice 787 'We fly first' sticker commemorating the airline's Dreamliner launch status – the very best souvenir I could take home.
With 33 minutes to go, I began setting up my belongings for the imminent arrival into Narita. I must admit I felt very excited as it is my first time landing in the Asian continent.
The descent was uneventful, approaching Tokyo from the North East.
The pilots of the 787 made a graceful ahead-of-schedule landing in Narita and ended an experience that will remain in my memory as the most special of all. After 9:54 aloft, we were on the ground. I could've have remained in the air another 10 hours if the 787 were willing.
Some images of Narita after our arrival:
Conclusions
What can be said after such a magnificent flight? It sure is a hard task to transmit a feeling or an experience when nothing ever goes wrong.
I believe my perspective is a good one to keep, given that I had never flown an Asian carrier before, and had never been to Japan. My logbook has numerous flights on European and American carriers, with varying service qualities, but for me personally this took it to the next level.
ANA has managed to deliver a product that depicts their culture in every way they can. I felt I was in Japan from the very moment I arrived at the check-in desk in SJC – surely a fact that they must be very proud of if that's what they wish to transmit.
ANA's professionalism and sharp attention to detail is something I had never seen before. Their constant natural smiling overwhelms, and makes one feel different and somehow special. Moreover, the Japanese essence that's delivered in ANA is extraordinary. The absolute graciousness of the flight attendants, makes it even a better experience, as delicacy and subtleness are two predominant qualities that they all portray.
I couldn't think of an airline that deserves more to be the launch carrier of this magnificent airplane than ANA. The Dreamliner is one incredible flying work of art, all the way from the smallest details, to the aesthetics and performance. ANA has managed to take advantage of every quality the airplane has to the best of their ability, offering its customers unseen characteristics that make the flying experience very unique.
I am very happy with the result of this flight and am confident that both ANA and Boeing will continue to work together in developing this astonishing airliner. I hope the other carriers that have it in its fleet can honor it the same way this Japanese carrier has.
I would like to thank all the ANA crew for this unforgettable flight, especially Mami Hattori, Nao Gunji, and Chris Sloan for the opportunity of covering this trip.
Here are some of the photos I took with the inflight crew:
The Dreamliner gave me the best gift I could ever think of, a Dream Flight. Thank you for reading.
– Enrique Perrella
Disclaimer: ANA provided Airchive with a discounted Business Class ticket, but has no approval over the editorial content.
Did you like this article? Share it with your friends!